Top 5 of the best sushi restaurants in Barcelona

Five good places to eat sushi in Barcelona:
Do you master chopsticks to perfection? Did you give up and prefer to use a fork? In both cases, you love to eat sushi and that's good! In Barcelona, you will find good sushi restaurants for sustenance. Sushi lovers here is a Top 5 of the best sushi restaurants in Barcelona!
Koy Shunka
Carrer de Copons, 7, 08002 Barcelona, Spain

+34 934 12 79 39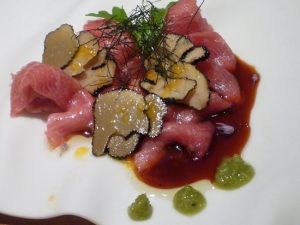 Website
In the heart of Barcelona's Gotico neighborhood, in a secluded alley, discover a chic and refined restaurant offering sushi of great quality. The atmosphere, hospitality, and service is excellent but what about sushi?
If you are looking for a real culinary experience, this restaurant will fulfill your expectations without doubts. Fresh ingredients, refined dishes and very tasty, with the possibility of discovering a tasting menu that offers many dishes.
Little more? An open kitchen to be able to see the cooks prepare your sushi under your eyes. The gourmet menu is rich in flavors with farandoles of dishes.
The price is high by the quality and reputation of the restaurant, remember to book if you want to eat there.
Restaurante Fukamura
Calle Corsega 4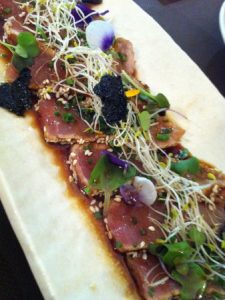 79, 08025 Barcelona, Spain

 +34 930 23 36 43

Website
If you are looking for ultra-fresh fish, tasty dishes and quality, go to Fukamura. A Japanese restaurant without any bad surprises and that seems to come straight from Japan.
A few steps from the Sagrada Familia, come enjoy their sushi, sashimi, nigiri or other maki! A very good place for sushi lovers, without making a fuss. The restaurant is quite small and very popular, think to reserve to have a table. Vegetarian, vegan and even gluten-free choices are also available. Count around 15 € -25 € per person.
Sato I Tanaka
Consell de Cent 255, 08003 Barcelona, Spain

 +34 932 69 62 07

Website
Nice place to eat good sushi, the fish melts in your mouth, the chef prepares the menu in front of you after you have explained. The quality of the seafood is excellent and the products are local, the different dishes are varied and balanced. To test!
Shunka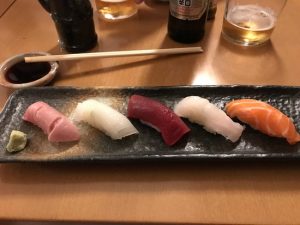 Calle Sagristans 5, 08002 Barcelona, Spain

 +34 934 12 49 91

Website
A kitchen totally open to the restaurant, bein dishes seasoned, tasty and refined. The kitchens close at 16h so plan to come at a ttimeless Spanish than normal.
You will be transported to Japan, the decoration and the cuisine are authentic. If you can put the price, try the tasting menu at 65 € to discover the flavors of Japan.
Miu Japones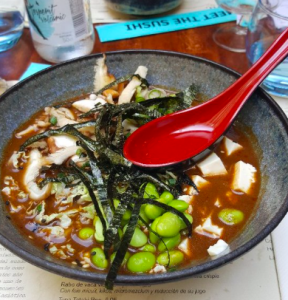 Valencia, 249, 08007 Barcelona, Spain

+34 934 12 49 91

Website

A special proposal from LocaBarcelona ! Located close to our agency, this restaurant very well decorated offers quality Japanese cuisine that will delight your taste buds.
A very good value for money. We recommend Kamo No Yakimeshi, a bowl of slightly spicy rice with vegetables and duck breast. Good tasting!
Whether you come to live in Barcelona or you are visiting, come and try these restaurants that will satisfy you with sure! If you are looking for an apartment in Barcelona, please visit our website: LocaBarcelona